How To Order From WebVinyl.Com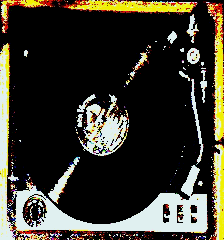 Last updated 05/19/16


Up till now, WebVinyl.Com was an "Old School" website - i.e. an online catalog (And that still may be the best way to get together a BIG deal involving lots of items). But, we now feature Online Ordering and Payments! Just click on the items you want to add them to your shopping cart! When you finish, click on the payments button to finalize. You may pay online with Visa or MasterCard either directly or through
(prefered, they charge me less so I can keep prices low!) or mail a Check (order held 10 days), Money Order or Cash (at your risk! I've never had anyone loose any but....). All online payments are through a Secure Site, and no emails are sent with your Credit Card information. You will recieve an email invoice with the items ordered and total including shipping (see below) . You can still order the old way - find an item you are interested in, email me (cut and paste works best) with the item and I will let you know if it is still available and what the total with shipping is. Payment can still be made online. After "the deal" is together, I will send you a link to a secure site where your payment info is entered or you can send me your info and I can get the approval.
Shipping
Shipping is calculated automatically on the order page. For Domestic orders, the choices are Priority Mail and Media Mail (formerly know as Book Rate). Unfortunately, Priority Mail is now calculated on a "Zone" basis rather than the flat rate that had been used - ie. it costs more for me to send to the East Coast than locally. The rate that will be calculated is a "worst case" rate - ie. if you live in Seattle it will calculate the rate to send to the East Coast. We will calculate the correct postage manually before we charge your card and only charge you for the correct amount. In other words, you will pay no more that is shown and probably less depending on your location. Our apologies, we hope that our payment processor will include a new shippig calculation method soon but for now.... Media Mail has also gone up (very slightly) but still uses a flat rate so the calculations should be correct for it.

If you want insurance or other special handling, enter your instructions in the provided "Notes" box and they will be added to your order manually. If you do not insure your package, we are not responsible for any damage that may occur! This has never been a problem but we want you to be aware we can't do anything about what happens once a package leaves our hands!

The options for International orders are First Class and Priority, Priority Express, etc. There is no Surface Rate, Book Rate, etc. from the U.S. Because it is impossible to accomodate all the different situations that can arise in overseas shipping, I have set the rate calculations to a "Worst Case Senario" - in other words, you may pay LESS than the shipping that is quoted! If for some reason the shipping should come out to be more than quoted, you will be contacted by email BEFORE your credit card is charged. Also, please be aware that there is a 4 pound limit (that's about 7 LPs and packaging) on First Class shipments. If you order more than that the Postage will have to be calculated manually!

Some other details about International shipping that you should be aware of. First, shipments by First Class can not be insured. The only type of International mail that can be insured is Parcel Post and, in my experience, no one ever feels it is worth the extra price (about twice) just to be able to insure the package. I will be happy to quote you prices for Parcel Post (or for that matter Express, UPS, FedEX or whatever) but at this time they can not be handled automatically online. I've NEVER had any problem shipping without insurance in over seven years but you should be aware of this just in case the Post Office looses something - I can't be responsible!



Contact